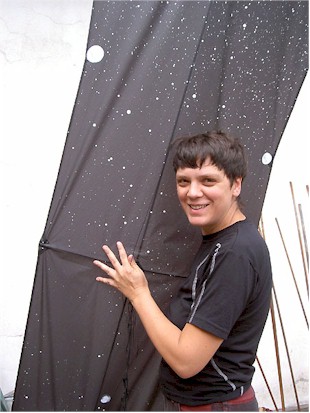 kisa's bio:
Theater sculptor, set designer for opera, dance, musical theater since 1987 (Per Bonn, Musiktheater im Revier, Philharmonie Essne GmbH)
Freelance designer since 2000
She was taught about kites by her grandfather, so has been flying and making kites since she was a child.
In 1988 she made her first sport kites.
In 1989 she became a co-founder of the artist group "
drachensyndikat
.
With drachensyndikat she has particapated in kite festivals, artistic installations, kite performances all around the world.
In 2000 she brought out her quad line kites "
clown
" and the first of the "
sky dancers
".
Since 2002 kisa has been melding kites, banners and landscape into artistic kite installations.
I first came across her
Muschel
kite and have been following her ever since then.
Her kites are all works of art that she carefully, and some times whimsically, paints to create her masterpiece.
---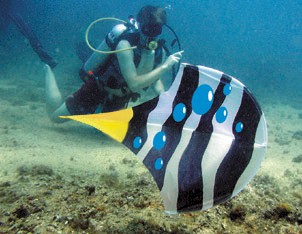 Our first offering of kites from Kisa is her Scubadoo.
This kite was designed to be "
flown
" underwater just like flying indoors.
With practice, and a good breath, 360 degree flight is possible with this kite underwater!
Up in the air it is a super kite that is good for anyone to fly.
The Scubadoo comes with 2 fiberglass spreaders, the lighter 2mm rod is for flying in wind, and the 3mm one is for watery flights.
A tail and line is also included, as is instructions in both german and english.
The graphics on the kite are screen printed for a long life.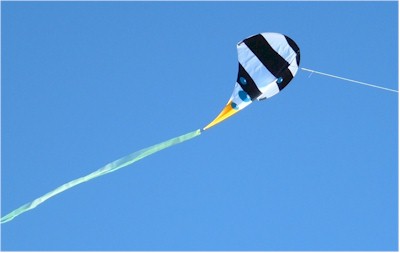 This kite will start flying indoors with a quick step, outdoors in a slight breath of a breeze.
Clip the tail on to help keep it stable around 4mph of wind and it will keep flying up to about 18mph of wind.
The 3mm water spreader might be helpful in higher winds (above 18mph) to keep the kite from folding in half *
this is theory and has not been tested by me!
The Scubadoo comes with a red tip or a yellow tip (with matching tail).
A Scubadoo ready to fly is 38.95$ shipped in the US
Another great option for this ktie is to attach a 4' long leader line from its pigtail to the tip of a telescoping banner pole.
You will have contained the Scubadoo within a certain flying area and it will be constantly moving.