Tony & Petra have been making kites now for 15 years, for themselves and for friends and family.
They make rokakkus, fighter kites, these small panels as well as other designs.
They are still flying the first kite they ever made, a small fighter kite!
Their favorite place to fly is
Bug Light Park, in South Portland, Maine
.
The following is their kitebuilding influences:
"

Karl Longbottom
: He has given us valuable help in our applique technique, as well as general encouragement for our kite building progress.
William Farber
: He has given us lots of information, and we look at his designs in awe. We got the first North American copy of his book,
Painting with Light and Air
, when it was published (
a phenomenal book to add to the library!
).
John Martin
: Another kitemaker from Maine, has been a great help in construction techniques."
.
---
Celtic Panels
These small rectangular kites (~32x24") are modified slightly from the plans in William Farbers book.
They fly in gentle breezes , and do so without any tail thanks to the fiberglas framing. Above 8mph or so, put them away and pull out a Cypod.
They are not strong lifters so if you wish to add a tail a recommended one would be a ribbon tail.
As you can see they are sized perfectly to fit into a window to add a dash of kite brilliance!
Below is a collageof the pictures of each kite.
Each kite with natural light behind it and also with the camera flash.
As you see they can look quite different!
Click on the picture below to go to a bigger picture of them, find the colors you like and when ordering put in the letter you see on the bigger picture.
(by the by: letters C &D are different purples colors, but the same green; and F & H are a matched set.)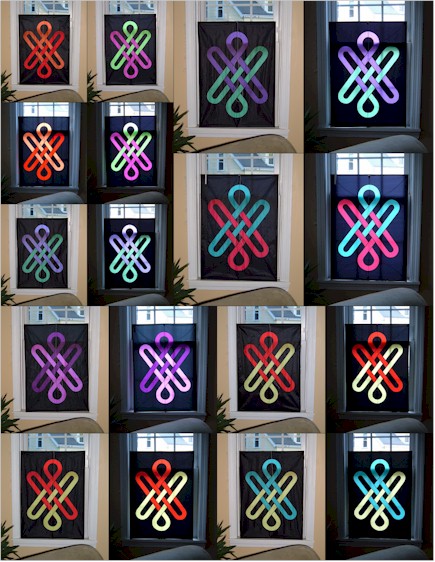 I like to fly a pair of them, but they do fly quite well alone.
Take outdoors into the wind and tie on 50# line for great results!
A single panel is 70$ shipped in the US
A pair of them is 125$ shipped in the US