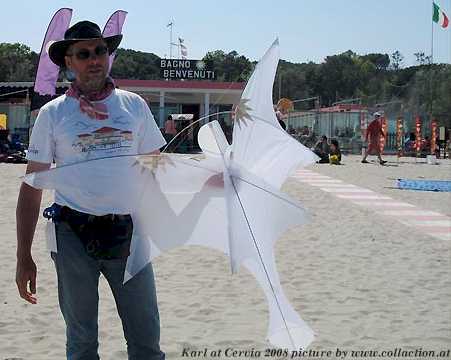 Karl Longbottom has been invited from his home in the UK to far away places because of his kites.
The fighting underwear- mens and womens, the angels, the mad hata, his new tye-dyed della portas, the giant stacks of yakko bees.
Windswept Kites is proud to be Karl's distributor for the continent of North America
.
Karl is not only known for his kites, but also for his kite making workshops.
A genuinely nice kitemaker. Simple as that.
Karl's kites are amazing-both in design and in craft.
Doves
Pants
Angels
The Mad Hata
Pterodactyls
The Owl
Dyed squares
Pipa Fighter!
Tangrams
6-81
Looking for assembly sheets for any of these kites?
Click here
Looking for the Swan kite instructions?
Click here
---
Angels
When we first saw pictures of these kites we thought that they were flat kites.
There was 2 in the first package we received from Karl.
We immediately pulled them out and went to put one together and-WHOA-these are NOT flat kites in anyway!!!!
These kites are completely 3 dimensional and look amazing in person.
There are 3 sizes of Angels that Karl makes.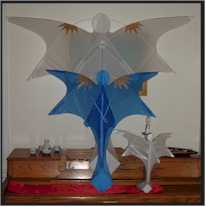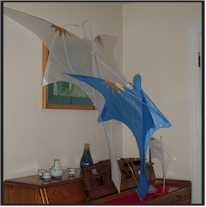 The Miniature is a "Christmas tree decoration that flies" was designed to be a holiday tree topper (or a plant sticker in our case) that flies as beautiful as it looks.
The Medium and the Large Angels are both good size kites that make a great impact.
These kites are perfect for a memorial fly, outstanding for a night fly (the white ones), or even hanging in a room on display.
The Mini Angel


0.4 meters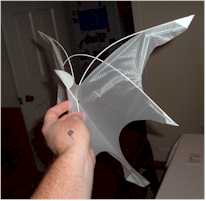 $35 shipped to the U.S.
Medium Angel


0.8 meters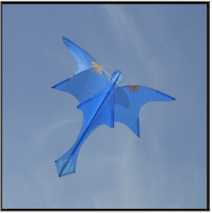 $95

68

$ shipped to the U.S.

---
Large Angel


1.2meters




$180

130$

shipped to the U.S.
---
Pair of Doves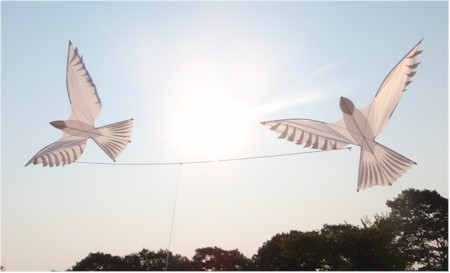 The Doves fly as a pair depending on one another.
With wings flapping they create a wonderful show.
They each fly on their own, but if you attach them to opposite ends of a carbon rod,
tie your flying line to the middle of the rod they will fly together.
Bridle them so they fly stable, or tweak them to be a bit more active (our choice) for a constanly moving display.
The Dove pair is 300$ shipped in the US.
They are a great addition to your bag!
---
The Mad Hata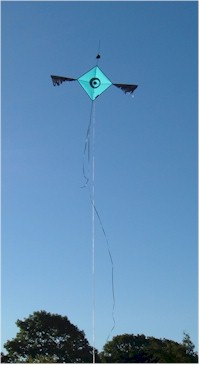 A neat kite like no other.
This kite has an elongated spine both above and below the main sail and trails off to a satin ribbon tail.
It is designed with a dihedral (wings swept back) for stability- but also has sweptback fluttering wings of hot cut strips of material as well.
A basic 2 leg bridle makes it simple to get up in the air.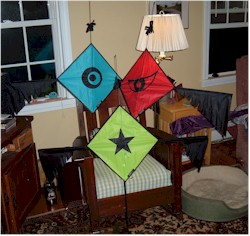 Neon yellow and aqua blue are left, the red one is gone.
$60 includes shipping in the US
Pants
These are not your Granny's undies!!!!
These are well designed fighter kites that are like no other.
Great for the battle between husband and wife.
Add a simple tail and these kites
should
be stable enough for un-watched flying.
Karl has made these with a simple 2 leg bridle and a bow line across the back of the kite (sort of like a Buka fighter kite).
Pants come in different colors to match your outfits.
Both style of these kites are $95.00 shipped to the U.S.
---
Pterodactyls

BEWARE: these little guys are crawling into kite bags of flyers
everywhere
!!!
One of Karl's newest creations is a great flyer in those ultra light wind conditions, even indoors.
Those days when you get to the park, but did not bring a SUL dual line or quad line kite, and there is barely enough wind to blow your hair around is when you find your little dinosaur-ish friend and give him some air time.
But, the Pterodactyls are not just a UL wind kite, they can easily fly up to 15mph or so with ease - you do lose your fun 3 dimensional flying though,
good luck if you can get him to do a controlled flat spin in 15 mph wind!
Pterodactyls are great all around and over you flyers.
In the slightest wind you can have him doing flat spins, and up and over's with ease.
Tuned by a tension line behind his head/across his shoulders you can adjust him for his trick-ability.
More tension will have him flying more stable on his own (this works great if you fly a train of them), and less tension will make him be a better tricking kite.
Because the bridle is attached to his nose and belly the keel/belly is used more as a rudder when flying him; as he flys away from you flick the line to one side and the head and keel will curve the Pterodactyl in that direction.
Plus, who would not love a face like that! They have
personality
!!!
We have these 4 on hand right now ->
check them out
$85
66
$ shipped to the US
We also have the Large Pterodactyl from Karl as well.
This is our favorite!
These are twice the size of the above Pterodactyl, and are all icarex.
These fly better in zero wind conditions than the standard sized ones.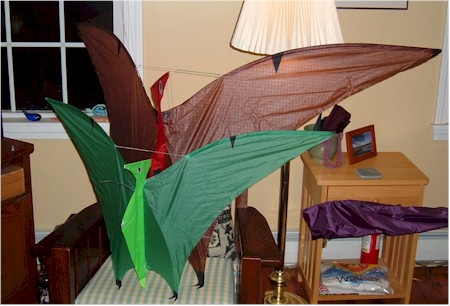 Please contact us for colors on hand
The Large Pterodactyl is
160
$
142
shipped in the US
---
The Longbottom Owl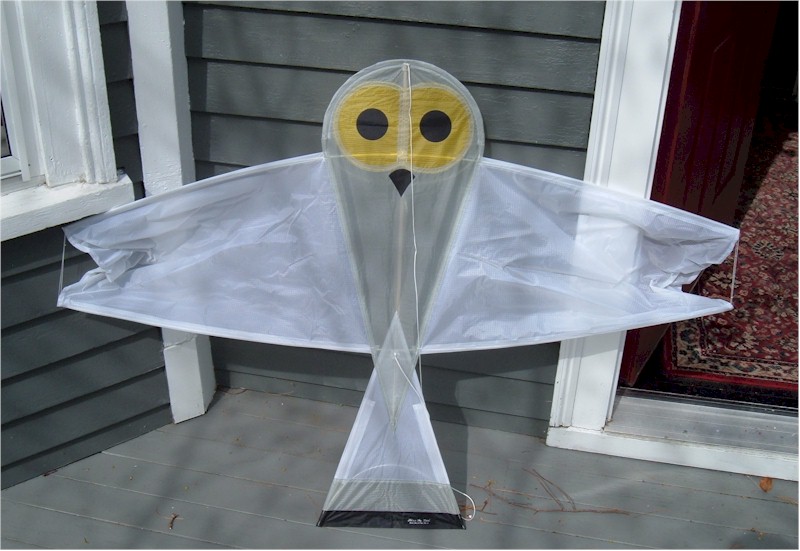 Karl's Owl kite is a fantastic lighter wind flyer.
Think of all of those night flys where there was just not enough wind to get a kite in the air - well the Owl will pop right up and look VERY appropriate!
The Owl is a modified Yakko style kite.
As you can see the wings have two rods in them: one in the upper edge and one in the lower edge of the wing.
These rods are parallel when you assemble the kite, but then they bow backwards and towards each other in flight.
Any gusts of wind spill off the wings very easily.
A good size kite as the wings are 52" wide and the kite is over 3 feet tall.
Here is an outdoor flying picture to show size
This is a great addition to your bag, cleanly crafted by Karl.
$90.00 shipped to the US.
6-81!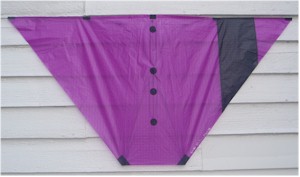 The newest xUL kite from Karl.
This kite obviously has the same basic design as the pterodactyl, but with some
refinements
.
The spine is only 2/3rds the length of the kite, while the rods that are extended from the wings extend below the spine.
That creates an area with some flex, so that when the kite is under tension a valley forms in the skin there helping toguide the kite on a straight track.
This is a nice floaty xUL kite, fly it in your back yard, inside your garage or airplane hanger, or at the beach on a calm day.
Need to add one to your bag?
The 6-81 is priced at 83$ shipped in the US.
Dyed Squares (parallelograms?)
Karl has been making some new kites!
These are smaller sized ~12-18" squares and rectangles that are painstakingly dyed.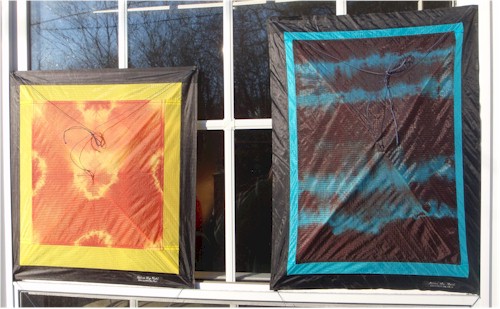 These kites are individual - as the dying process cannot be perfectly repeated - and are great flyers.
They pack down to a nice ~1" x 23" long bag so you can bring them along anywhere you want to.
A basic two stick wooden frame makes assembly very easy.
Their matching fuzzy tail keeps them in check in unstable winds.
These kites are 67$ shipped to you in the US via Priority Mail.
---
Pipa!!!!
Karl has made up a big fighter kite that is based on the Brazilian Pipa Fighter kite.
This is not a small zip-zip kite, this is a ~3' fighter than will fly phenomenally in most winds.
Of course, Karl's engineering background has come into this kite with the skin tensioning method.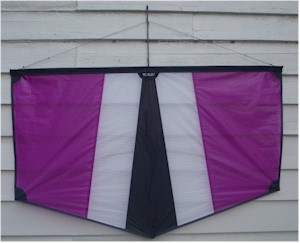 Ths Pipa is 95$ shipped in the US.
Click the picture to see some options.
---
Tangram!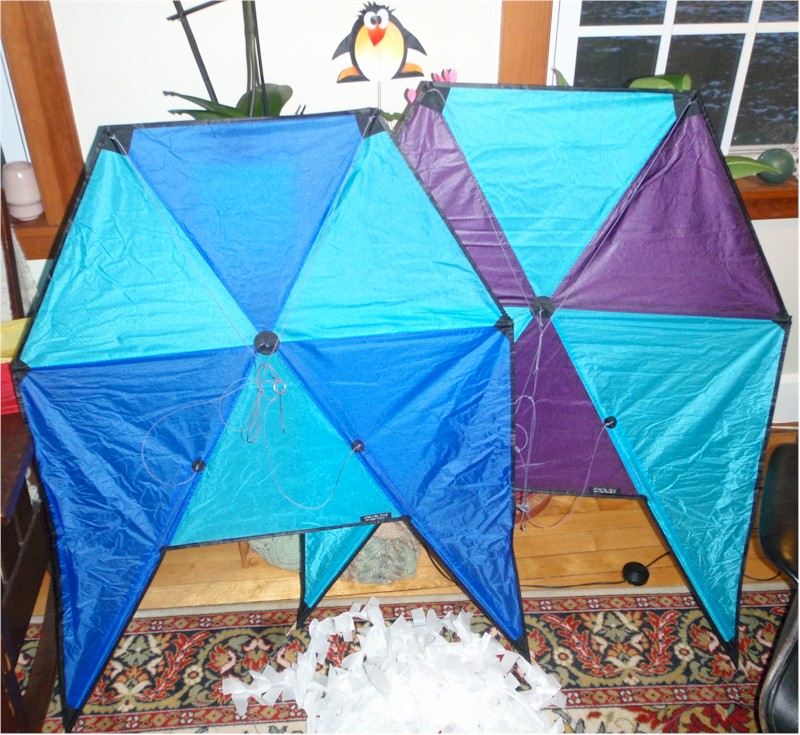 So, I love 3 stick bermuda styled kites. Karl makes his own version that he calls the Tangram.
You can see the basic hexagonal shape of the Bermuda style kite, but it whas some extra bits.
The extra elongated side sections help to stabilize the kite, as does the long fuzzy tail.
There is a special 5 leg bridle that helps to keep the kite stable as well.
This kite is a great flyer in all sorts of winds, very easy to assemble and pop into the sky.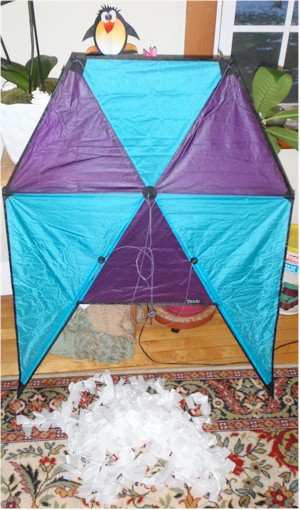 The blue/blue one is gone, but the purple/blue one needs a home.
75$ gets it shipped to an US shipping address'
---
Assembly and flight sheets for Karl Longbottom kites.
Right mouse click and "
save as
" is the best option.
Pipa Fighter instructions
Pterodactyl assembly and flight information
Pants assembly and flight information
1.0m Angel assembly and flight information
1.5m Angel assembly and flight information
Owl assembly and flight information
Video of the 6-81 assembly
These are two folders of instructions and photographs of Karl's Swan kite.
It is a popular kitemaking class kite that he provides.
Directions
Photographs
(right click and "save target as...")