. . . a definition:
Boreal: (bor e al) 1.) adj.; Of, or pertaining to the north; 2.) Of, or pertaining to the north wind; 3.) noun; A gentle wind from the north. (Oxford English Dictionary)
. . . some info about the kites:
All of our kites are single-line kites, produced by screen-printing and/or handpainting acid dyes onto ripstop nylon sailcloth yardage, steam-setting the colours, then cutting and sewing the cloth into kites. This is a tiny niche, of both the textile printing and the kite worlds, which we feel we have made our own through fifteen years of experimentation and trial and error to achieve the colours and results that we do now.
---
That is straight from their website-I cannot say it any better than that.
We love our Boreal Kites. In our bag are 3 of their special swallow tail deltas and one of these great arches.
---
We have their arches and their
deltas
on hand.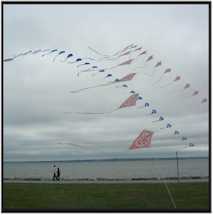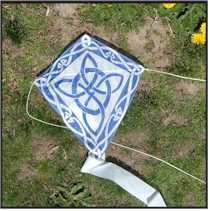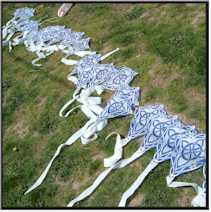 Eric and Anne usually only make this arch in either a black knot/white background OR a red knot/white background combination.
We had to see this arch in a bluish-purple (think of the sky at night - that deep deep blue color).
We commissioned them to make three arches of this color and are very pleased with how they turned out.
This arch is also available in the standard color designs at the same price,
or for a real custom email and we can talk colors and prices.
$155 for a limited edition 24 kite arch (shipping in the US included)
---
Here is Boreal's writeup of their arches:
Specifications:
Our full arch includes 72 diamonds. We felt that the cost of this in one go, might be too much for most people, so we are selling them in sets of twenty-four kites, or Two-Fours ( a Canuckism for a case of beer, or 24 bottles). This unit will fly by itself, but if the full effect is wanted, it is very easy to tie three of them (or more!) together to make as large an arch as you could wish.
Each Boreal Arch Two-Four consists of twenty-four 16 inch by 13 inch ripstop diamond kites, with 36 inch tails, spaced 20 inches apart on 250 pound dacron line.
The sail fabric is 3/4 oz. Contender Nylite, made without the resin coating (this allows better dye uptake and stronger colours). The spine in each diamond is 1/8 inch hardwood dowel (for easy replacement).
The design is screen-printed by hand with acid dyes. The Arch is available in two colours, black on white, or red on white.
The Arch can be flown in as little as a 3 mph wind on up. It requires clean ground wind and placement perpendicular to the wind. With the right placement, it is self-launching after a calm.
The Arch is sold in a limited edition of 100.
---
Arch Info
When you fly an arch it is so easy to make it look you are your own kite festival. An arch is one of the simplest things out there to fly.
1. Pull out bag
2. Untie bag
3. Slide arch out
4. Attach anchor line to stake (always set up in our bags)
5. Stake goes into ground
6. Walk across the wind unrolling the arch - it will fly at that moment
7. At the opposite end attach stake to anchor line
8. Plant second stake
9. Walk away and enjoy

If the arch is perfectly across (perpendicular) to the wind direction it will fly easily and high without any problems.
If it ends up not being perpendicular to the wind- just pull up one stake and walk until the arch flys it highest.
If the wind dies the arch will settle down on its own. When the wind picks up again the arch will start to fly again all on its own.
You can create tunnels of kites.
Or you can stack them like the Olympic Rings.
If you arch is not big enough attach the anchor line from one arch to the anchor line of another arch-suddenly you have a bigger arch.
The kites in the arch only have one rod-the spine.
The spreaders, that are usually there, are replaced by a line that runs across each kite (and is the anchor lines).
The kites are evenly spaced across the line to make a nice display and for optimum flight as well.
Looking at pictures of a kite festival you will see arches, beautiful arches.
Lots of kite makers make them and personalize each one of the kites.
The Boreal Kites Two-Four arch is the nicest, and best arch we have ever seen or flown.
Deltas!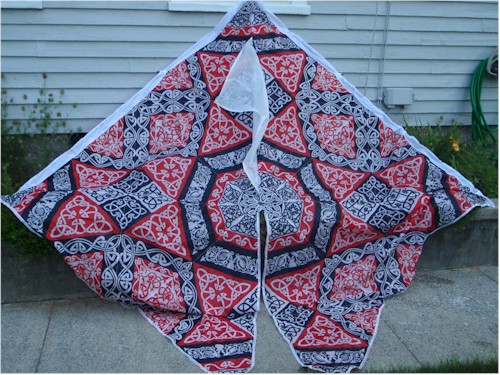 The deltas that Eric and Anne make are spectacular flying kites.
They are also, as you can see, intricate works of art as well!!!
They all have extended tails that give the kite the shape of a square flown on its diagonal.
Those tails make the kite fly very stable in all sorts of winds.
Remember that all of their kites are limited numbers! Once they make the total number that is it!
This is the Trickster Delta.
Two shades of blues and orange form the birds and make this kite pop in the sky!
This is the small Trickster, over 5' wide.
It will start flying in about 4 mph and is good up to above 15mph.
We only have one, so grab it while you can!
$145.00 Shipped in the USA